On Monday we planned to take my dad to Canyon Lake to stay in the tree houses, but when I started packing Hayley and Colin begged, yes begged, to say home and go look at model homes.  "Really?!  You're foregoing a treehouse adventure to look at model homes?"  Yes Mommy!  Lucky for them, guess who else also LOVES to look at model homes?!  Yep, Grandpa Bobby.  When I was a kid, my dad and I would hop in the car on a Saturday afternoon and drive around looking for those tall flags.  When we'd find one we'd scope out the model homes.  I guess it's genetic!  We took my dad both to Fulshear and to our favorite one in Cinco.  It's has the coolest front courtyard ever!
That afternoon we hit another Sommers family tradition – going to the movies!  Growing up sometimes we'd see two movies in one afternoon!  This time we saw just one, The Lorax.  It was a tad liberal leaning, but pretty cute and creative.
And to top off the day, we went to one of our all-time favorite places . . . IHOP.  Oh, how I love IHOP!  Thankfully, we had the whole overflow room to ourselves because . . . let's just say . . . Colin felt a little woozy and it all came up, and up, and up, and up.  Needless to say, our waitress got a very nice tip that night.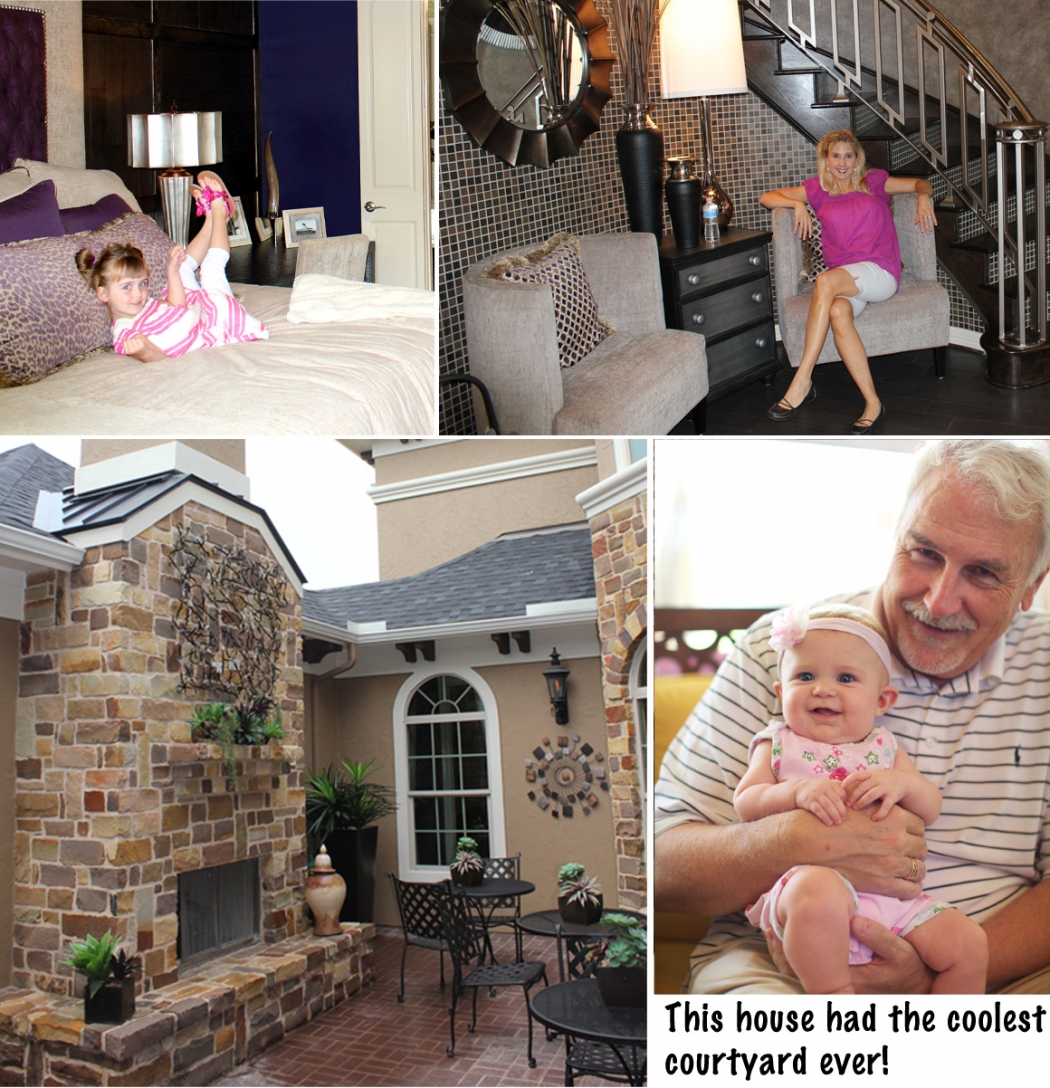 On Tuesday, we took the kids to preschool so we had the morning to ourselves!  We went to HEB, watched some TV, dinked around on the computer, and grabbed some La Finca for lunch!  Before we knew it, it was time to pick up Hayley and Colin. That afternoon we took the kiddos to gymnastics and just enjoyed being together.  While we managed to free Colin of his bottle and later diapers, the little guy won't let go of his pacifier.  So what does my dad do?!  My Dad pretends like he needs a pacifier too!  Colin thought this was the funniest thing in the world!!!  Also, just to tease Colin, my dad started calling Colin "Steve."  He would say, "Are you Steve?"  "I think you're Steve."  Colin would giggle and giggle and insist, "No, I Colin."  My dad would insist back, "No, I think you're Steve.  Colin doesn't wear diapers. You must be Steve."  Colin thought it was the funniest thing ever!  Colin would say to me through the giggles, "Grandpa Bobby call me Steve.  Steve is a silly word!"