I'm really proud of all my kids, but with respect to gymnastics right now I'm especially proud of Colin.  Colin started gymnastics this past May and has progressed SO much.  I would have enrolled him sooner, but I had no idea how much he would LOVE the sport.  He went from Level 1 to Level 2 in one week.  Then progressed from Level 2 to Level 3 two months later.  And then went from Level 3 to Level 4 in two months.  In the gymnastics world you usually spend about a year at each level.  Colin has done all this in four and a half months.
Colin literally lights up when he gets on that gymnastics floor. I've never seen him love anything more.  He wants more than anything to be on the gymnastics team and is willing to put forth the work it takes to get there.  Lucky for him, he's very lean, quite flexible, and has a strong core.  This past summer, Colin taught himself a back bend, a bridge kick over, and is catching on very quickly.
Colin also has a hard work ethic, is a natural achiever, and loves the feeling of accomplishment.  I think that's why he loves gymnastics so much.  It's such a disciplined sport with so many elements of accomplishment along the way.  When Colin moved up to Level 4 he was SO excited that he could hardly sleep!
I actually knew Colin was going to move up even before he did, and it was SO hard to keep it a secret.  You see I emailed Coach Matt, the head coach of the younger boys team to see if Colin could get a private lesson.  I told him that Colin loved gymnastics and really wanted to make the team.  I also explained that I was worried that because of Colin's age (most gymnasts start at age 3 or 4) he might be passed over when they choose the team in the spring.  And it's really competitive.  Coach Matt told me that he already knew who Colin was and assured me that in no way has Colin been looked over for team.
Then Colin had a 45 minute private lesson/evaluation with Matt.  I was watching the whole time, and Colin was doing terrible.  What was going on?  He couldn't do his handstands or cartwheels without falling over.  It was bad news.  Seriously, Colin?!?!  The kid can do cartwheels and handstands in his sleep.  I wasn't sure what was going on.  Then he moved to the high bar, rings, and then parallel bars.  And Colin started doing really well and even did his pullover on the high bar!  I was so proud of him!
When Colin's private was over Coach Matt asked to talk with me privately in his office.  Oh no, I thought.  This can't be good.  I quickly interjected and said, "I promise Colin can do a handstand and a cartwheel.  Can he just show you one more time?"  "Oh I know Colin can do a cartwheel and a handstand.  I've seen him do them.  He's just doing them from the wrong leg.  He needs to be doing them from his dominant leg, which is going to take a little work."
Then Coach Matt continued, "Colin is actually doing really well. I was impressed.  He needs to be moved up to the Level 4/5 class. . . . I do all of my team selection in May and then the boys start competing the following January.  I would like to get Colin ready to compete Level 5."  Um wow!  I didn't expect that.  That was awesome!  So we moved Colin up to Level 4.
So now Colin takes two Level 4 classes each week (two hours each) and has one 45 minute private with Matt each week.  This has actually been the biggest blessing for me because at one time we were going to gymnastics five days a week, which was driving me nuts.  So now we only go Mondays and Thursdays for regular lessons and Fridays for Adult Gymnastics, Private, and Open Gym.  It's SO much better!!!  I love it!!
Here's Colin in the Level 4 Class (he's in the green shirt) and practicing his back handspring with Coach Matt.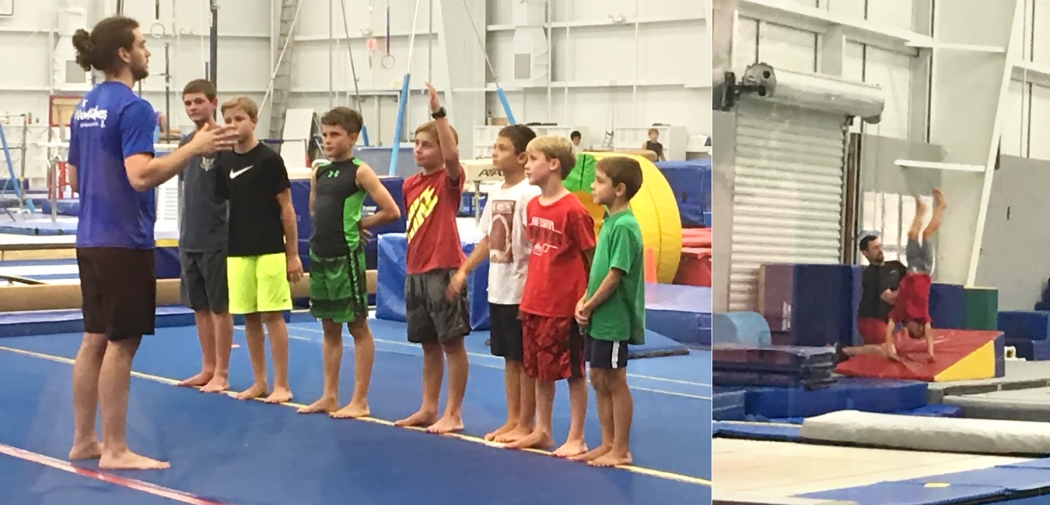 Crummy iPhone Pics:
P.S. Hayley and Sydney are also doing really well and are each going twice a week.  Hayley restarted gymnastics in the summer and quickly moved up to Level 3.  Sydney has been in the Fit Kids class (5 year old class) for six months even though she's only 4 and is doing so well that her coach asked me if I wanted to try to get her on team. She's only four so we have a while, but it's something to think about.  Truly nothing brings me more joy than watching my kids excel at something they love!